We all love Rek's dry sense of humor and the way he seemingly would rather be doing anything but work with Seppin, but in the end, he is an important part of the company and who doesn't want to know more about the enigmatic Rek?
Let's check out his favorite things!
Favorite Animated Movie?
 Teen Titans: Judas Contract
2. Top Three Characters from Each Universe?
DC- Nightwing, Deathstroke, and Flash. Marvel- Daredevil, Captain America, and….Stilt man.
3. Favorite Comic Book from DC & Marvel?
DC- Flashpoint. Marvel- Daredevil Vol. 1 by Ed Brubaker
 4. Favorite Indie Comic?
  Hellboy.
 5. Favorite Video Game Based on a Comic?
 Captain America: Super Soldier...I don't like many comic book based games.
 6.Favorite Villain from Each Universe?
DC- Deathstroke. Marvel- Kingpin.
 7. Favorite X-Men Event?
 Deadpool Kills the Marvel Universe.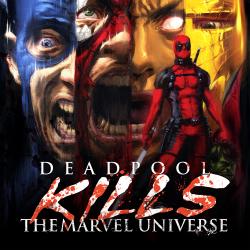 8. Favorite Comic Book Writer?
Ed Brubaker.
 9. Favorite Comic Book Artist?
Marcus Too.
10. Favorite Comic Book Movie from Each Universe?
DC- Batman v Superman. Marvel- Howard the Duck.