There a few things in life you should never do. Don't tick off MamaSeppinRek and do not trash Wonder Woman.
Because of this, we are going to let MSR respond to this story. These are her opinions and who better to write this post than a strong woman like our favorite mother?
MSR Responds
This week James Cameron sat down for an interview and proceeded to declare that Wonder Woman was a step back for women, not a step forward. Here is what he had to say:
"All of the self-congratulatory back-patting Hollywood's been doing over Wonder Woman has been so misguided. She's an objectified icon, and it's just male Hollywood doing the same old thing," he said. "I'm not saying I didn't like the movie but, to me, it's a step backwards. Sarah Connor was not a beauty icon. She was strong, she was troubled, she was a terrible mother, and she earned the respect of the audience through pure grit. And to me, [the benefit of characters like Sarah] is so obvious. I mean, half the audience is female!"
MSR's Reaction:
Okay, so to be a real strong woman on screen you can't be beautiful? You also have to be troubled and not well-liked to be a badass?
God forbid, a beautiful, smart, compassionate woman is being viewed as a hero.
I mean, seriously…James Cameron is a well-renowned film maker, I am not going to slam him on his professional achievements because they are numerous, BUT all you have to do is dig about an inch hole on Google to hear of his temper tantrums, Prima Donna, misogynistic like attitude that he has flouted around Hollywood (and has gotten away with it because he's a man who has made studios copious amounts of money) for the past three decades.
Does anyone remember what nickname he gave Kate Winslet when she was working on Titanic?
Kate Weighs-a-lot.
Thankfully, Patty Jenkins a.k.a. my new hero has responded: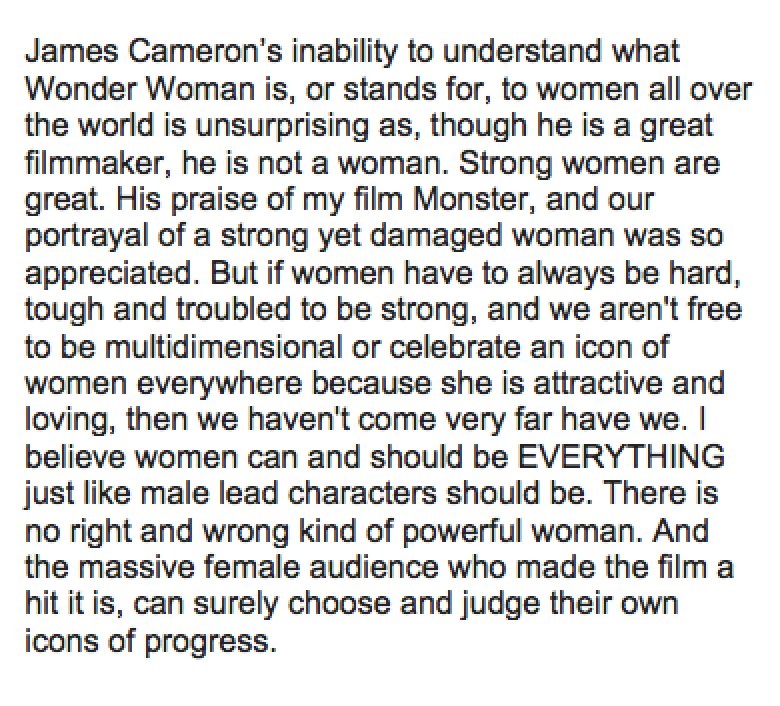 This is from me and Kate Winslet:
Mr. Cameron, Sarah Conner was a badass woman on screen, but you are the one taking a step backwards by trashing an equally strong badass woman on screen.
And that's all I have to say about that.
~MSR