Hey everyone, so last night at San Diego Comic Con in Ballroom 20, the cast for Luke Cage was finally brought together. What did we get to see?
Well, we got a lot more than just the awesome and amazing Luke Cage.
We received an Iron Fist Teaser and a Defenders Teaser as well.
Daredevil Season 3 was confirmed with a teaser.
John Bernthal surprised everyone with a quick appearance and yes, we are getting a Punisher series.
So let us start with all of the Luke Cage News…
Luke Cage Teaser
Wow, so for everyone that doesn't read our blog frequently you should all know that Seppin is a huge fan of Luke Cage and the Heroes for Hire. (He went insane last night when the Luke Cage Twitter followed him back). So he freaked out when he saw this trailer because it is so awesome. As we can see, the show is still going to keep it's dark tone, but with a more humorous take. Luke Cage has always been a fun character so we are glad to see them show this with the trailer, but we also saw the tough streets that Luke is going against.. The villain Cottonmouth appeared at the end talking with Luke Cage, so we can see this just being an average gang war all against Luke. Overall we are really excited to see another Marvel Netflix show.
*Don't let Seppin fool you. His reaction to Luke Cage following him on Twitter and the teaser made him go something like this…*
Sizzle Reel
So let's take a quick look at the sizzle reel that came out show their Netflix properties and characters…
We saw some more clips from Luke Cage, but nothing to big seemed to come out of this. It was really cool to see all of the established Netflix characters coming together. This also made sure that everyone remembers that the Punisher is getting his own show.
Daredevil season 3 confirmed?!
Daredevil is returning for another season on Netflix as we can see from the teaser above. The teaser takes place in a subway station in Hell's Kitchen. We hear fighting in the darkness and blood splashes onto the hanging sign. We are not sure if this is hinting at anything yet, but it looks pretty cool. Rek has some idea on where this is all going to go, but we'll have to wait until they start filming and we see some sort of trailer.
Let us take a moment to pay homage to one of the greatest scenes ever shot in a hallway…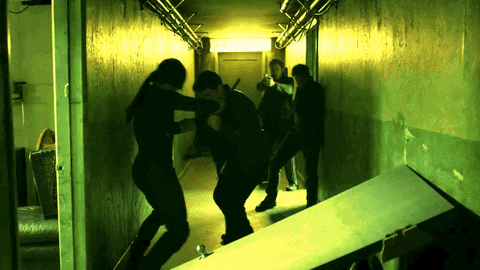 Iron Fist Teaser
The long awaited teaser for Iron Fist has arrived and it looks pretty good. We see the beginning of Danny Rand's origins up in the mountains, along with the monks that take him in. This will probably be shown through flashbacks as we see the main story unfold during present time. Danny also seems to be going a little nuts in the teaser because he is dealing with his powers. The Iron Fist symbol at the end of the teaser was really cool and we can't wait to see how he receives said symbol. Shou-Lao the Undying? We're not sure if a giant dragon is really Netflix's style. We'll see what happens!
We ALSO were treated to a short teaser for The Defenders!
How happy are we right now? Batman happy.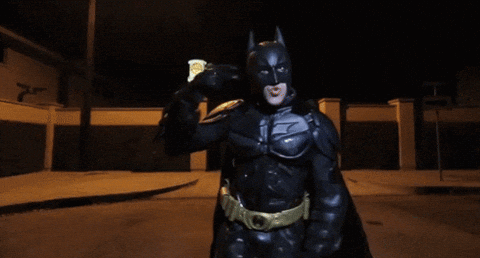 ~Seppin
~Rek