In a surprising turn of events, it has been confirmed that a fifth John Wick film is not just happening, but will be shot back-to-back with the fourth film.
This is exciting news because fans were very worried that the fourth film marked the end of the Keanu Reeves hype chain. But we are glad to say that the world's favorite assassin his here to stay. There is no plot right now, but we can assume that it will be directly connected to the fourth film like how the third film took place seconds after the second film.
Are you all excited?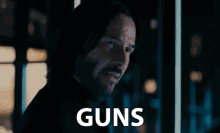 Because we are! Tell us your thoughts in the comments below!
~Seppin
~Rek